Rinat and Jacob Sneg – Your Vancouver Mortgage Brokers
Jacob (Ya'akov) and Rinat Sneg are husband and wife business partners.
They are proud parents to their three daughters, Shira, Adi, and Maya. When they opened their Vancouver mortgage broker business, it was their goal to bring the value of unique, original thinking to the Canadian system for the benefit of our clients.
Jacob and Rinat arrived in Vancouver in the summer of 2003. Jacob was an economist with an MBA in Finance, and immediately started in the mortgage business as an independent agent. At the same time, Rinat, an organizational psychologist (M.A.) began running workshops for newcomers to help them with immigration to Canada. Three years later, following many awards attesting to Jacob's achievement in the mortgage sphere, the team opened their own franchise, then known as Covengo and known today as Sneg Mortgage Team. Their significant volume of deals gives them access to the best terms and rates for their clients.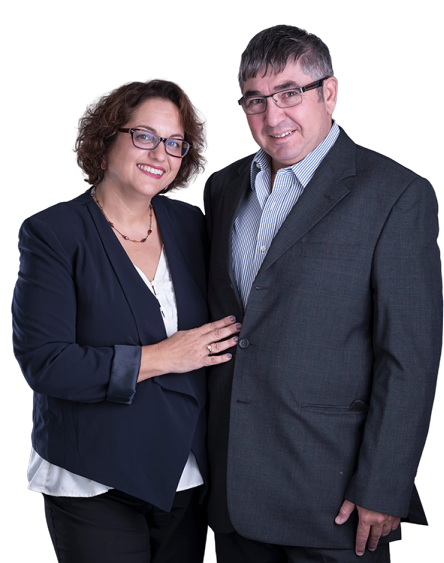 Since they became mortgage brokers, Rinat and Jacob have financed properties in Vancouver (East and West), Richmond, Port Coquitlam, Coquitlam, Port Moody, Surrey, Langley, West Vancouver, North Vancouver, and Vancouver Island. Some of these deals were done at a distance, without even meeting the client. At the end of 2012, the two expanded beyond the Vancouver area to serve clients in Ontario. Their aim was to serve Israelis in Toronto, Vaughan, Markham and other cities, offering service in Russian and Hebrew from experts who studied the Canadian system inside and out. Today they are active Canada wide and their name is carried by the strong power of happy clients.
In the past few years, Rinat and Jacob have consistently been in the top 5 percent of mortgage brokerages in Canada in terms of volume. What distinguishes them from others is not their ability to offer the best rates, their creative solutions, or even their sincere communication; these are simply necessities in the mortgage world. What distinguishes their service is the strategic management of client's mortgage. What distinguishes their service is the strategic management of your mortgage. To Rinat and Jacob, a mortgage is not just a tool to finance a property, but to create new order in your life, and your family's life, helping you create the financial path that you envision. The management of your mortgage is planned to make this happen.
"Our role doesn't end after we find you the best mortgage. You'll find we ask many questions, which might not seem directly related to finding a mortgage: We do this so we can save you the most money over the life of your mortgage, not just the next five years. A good rate today is important, but you shouldn't stop there. It's the fine print and the flexibilities in the contract that will control how much savings we can create for you".
The fact that Rinat and Jacob have access to more than forty banks and lenders, and that at any given moment there is a deal which best suits each client's needs, buys peace of mind and the leverage to maneuver mortgages. Sneg Mortgage Team doesn't care what the name of the bank or lender is; for them, it's important to make sure that the mortgage is a flexible tool that will also protect clients from the shock of rising interest or payments.
These two Vancouver mortgage brokers know that changes in the mortgage market happen quickly, and start preparing ahead to keep up. This is what they do, and they enjoy every bit of it. When you call Rinat and Jacob, you will find that they respond very quickly, leading the process strongly and efficiently. Your questions will be answered with a smile, and explanation on everything will be provided. The husband-wife team see your mortgage file as an investment portfolio. Just as you choose to trust your money with an investment expert who will make it grow, you trust them with your mortgage to manage it and save you as much as possible. What you get with Rinat and Jacob is strategic management service over the whole 25-30 years of the life of your mortgage.
Over the past years, they've created a team of realtors, lawyers, insurance agents and brokers, inspectors, appraisers, renovation experts, financial planners, and other experts that would love to help you. This team they built is another part of their commitment to making your mortgage take care of you. Rinat and Jacob do mortgages in a way you haven't experienced.
It's not just a mortgage plan: it's a life plan.
With Rinat and Jacob, your mortgage will respond to changes in your life, like marriage, expanding your family, buying your first home, renovations, and upgrading to a larger home. It will also respond to normal expenses in life, such as paying your kids' university education, supporting family in your home country, long vacations, planning your retirement, buying revenue properties as an investor, or downsizing to a smaller house. They will make sure your mortgage will serve you even in the toughest moments, such as losing a job, taking care of an ill family member, separation or divorce, or any other unexpected event. Your mortgage, when managed by experts, changes from a passive debt held by a bank for five years, to a dynamic, responsive financial management tool. Call Rinat and Jacob today to learn how you can save money on your mortgage.